Want to check your FESCO bill online, fescoebill.pk is a completely free website. Here you can check your FESCO bill online without any hassle in just a few clicks. You can also check the bill amount, due date, and full bill. You can download and print it for your record and payment purpose. So, please enter your 14 digits reference number above to check your FESCO electricity bill.
You just need to know your 14 digit reference number to check the FESCO e-bill for residential, commercial or industrial electricity connection. Enter the reference number in the input field above and you will get your FESCO bill online. If you are still unsure how to find the reference number for the bill, please see the red highlighted area in the image below:
About FESCO Bill Online
FESCO stands for Faisalabad Electric Supply Company. The company was founded in 1998. Faisalabad Electric Supply Company (FESCO) is a leading public utility Company dealing with the power sector and operates its business of distribution of electricity serving more than 4.96 million consumers. FESCO offers its electricity services in eight districts of Punjab.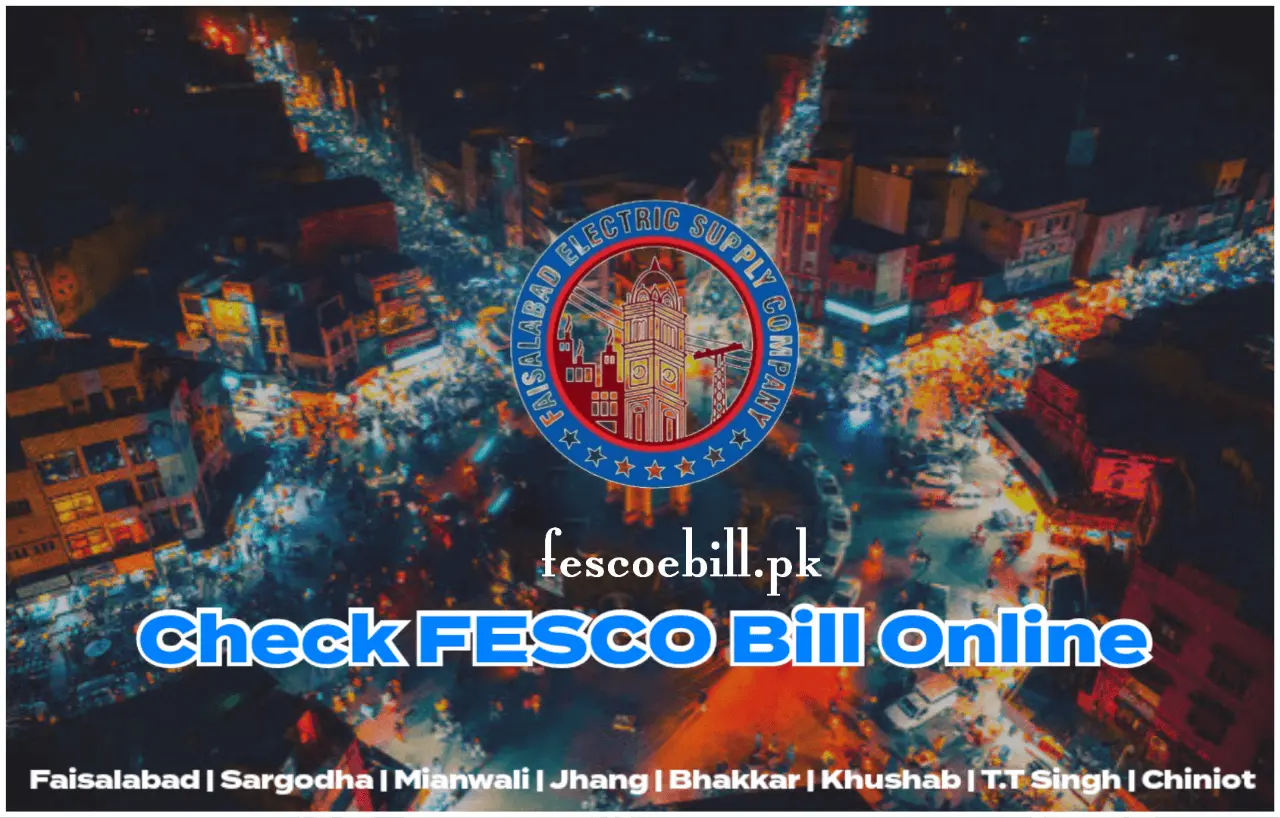 Service Areas of FESCO
The main service area of FESCO is Faisalabad, known as Manchester of Pakistan for its extensive textile industries. Overall it covers eights district of Punjab which are as under;
How to check the FESCO electricity bill online.
Here are a few steps to view your FESCO bill online
1. Visit fescoebill.pk website.
2. Enter your 14 digits bill reference number in the input field.
3. Click on the 'SHOW BILL' button to see the latest bill amount and due date.
4. Click on 'Print Bill' to see the complete bill where you can download or print the full bill.
Things you should know about your electricity bill.
Each electricity bill is divided into different charges such as the cost of electricity, F.C surcharge, T.R surcharge, TV Fee, GST on FPA, and GST.
FPA; FPA stands for fuel price adjustment. FESCO monthly bill includes fuel prices for energy companies that generate electricity from oil. The cost of FPA varies from month to month and it all depends upon the current fuel prices in the country.
TR Surcharge; TR is an abbreviation of Tariff Rationalization. TR Surcharge is the NEPRA and GOP tariff gap. It is meant to reduce overall power subsidy on the budget and to keep the tariff uniform across the country through cross-subsidy. This would vary from one distribution company to another.
FC Surcharge; FC stands for Financing Cost. The main purpose of FC surcharge is to ensure collection for debt servicing of Power Holding Private Limited.
FESCO Bill Payment Methods
Once you get your FESCO bill you can pay it through an online or offline method.
Online payment: You can pay your bill online using the internet banking service of any bank. You can also pay your FESCO electricity bill using JazzCash and Easypaisa mobile app service without any additional charges.
Offline payments: Printed/hard copy of the bill is mandatory for offline payment. You can pay your FESCO utility bill in all branches of commercial, microfinance banks, and post offices within City/District.
FESCO Helpline:
In case of any query, complaint or emergency feel free to contact at below-mentioned helpline numbers;
Phone: +92 (41) 9220184-9220229.
UAN No. 080066554.
Fax: +92 (41) 9220233.
Telephone Directory containing complete list of contact numbers of FESCO staff is provided. You can find district wise list of mobile and telephone numbers of relevant officer.
FAQs
Q. How to download the FESCO bill?
You can check and download your FESCO electricity bill at fescoebill.pk by entering a 14 digits reference number.
Q. Can I check the FESCO bill by CNIC or mobile number?
No, you can not check FESCO bills with name, CNIC, or meter number. Reference number is necessary to check your FESCO bill online, otherwise, you can call the helpline or visit the nearest office.
Q. How to get new connection of FESCO?
You can get free of cost application form for new connection from concern Sub-Division office. Dully filled application form needs to be submitted to clerical staff of Sub-Division office. Concerned clerk will provide you receipt as an acknowledgement of your application is submitted. Application will be processed and new connection would be made within one month time. In case of rejection of application, you will be informed accordingly with reasons.
Q. How to change name on FESCO WAPDA bill from one person to other?
The change in name of the connection can be made by submitting application to concern Sub-Division office with justification. After submitting the application, connection will be changed to desired new name.
Q. How to change a connection from domestic to commercial?
Submit application to SDO office with following mentioned documents. Connection will be changed in three working days.
Copy of CNIC
Affidavit of Rs.20
Latest paid electricity bill
Q: Can the due date of electricity bill be extended?
Yes, on your request due date can be extended up to three days.
Q: How can I download my electricity bill in PDF?
You can download your bill in PDF by clicking on ''print bill'' button showing on top of your bill and then on ''save as PDF'' option.
Complete user guide is provided on how to download or print a FESCO WAPDA bill. You can visit the User Guide here.